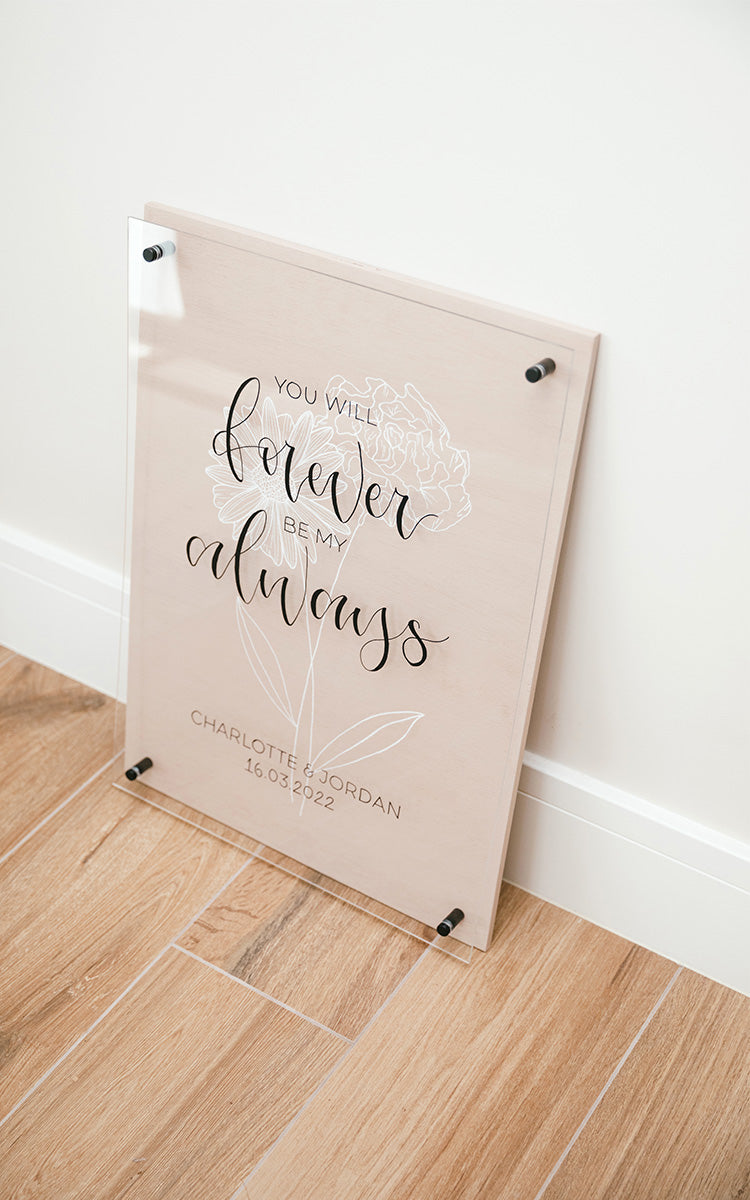 BESPOKE WEDDING SIGNAGE
Wedding signage covers a range of different elements you can include on your day. 
These might include welcome signs, order of the day timelines, place cards, table plans, favours, menus….essentially any part of your day can be elevated with hand lettered signs. 
I will work closely with you to make sure I can capture your ideas and create signage you can cherish forever.
Every sign is hand painted by myself, in my calligraphy style I have developed over the years. Before being finished, wrapped and in your hands 2 weeks out from your wedding. 


If you are stuck wondering where to even begin, I have a blog that can help guide what types of Wedding Signs are used most often here.
Photo by @molliemanningcreative
WANT TO KNOW MORE? GET IN TOUCH
Collapsible content
WHAT IS WEDDING SIGNAGE?

Wedding signs can be utilised for any part of your day, from the moment guests arrive to when they leave. They are used for decoration and direction.

These can include;

Welcome sign
Unplugged ceremony
Order of the day timeline
Place cards
Table plan
Guestbook
Favours
Food & drink menus

….essentially any part of your day can be elevated with hand lettered signs.
WHY SHOULD I HAVE WEDDING SIGNAGE?

I suggest all couples having some element of hand lettered signs at their wedding for a couple of reasons (and not because I am biased and think it makes your day look even better of course)

It adds to your overall style of the day and can bring in YOUR personality. DO you have a inside joke or a special memory you want included? Personalised wedding signs give you the opportunity to add this.
Signs create a sense of direction for your guests from when they arrive. You can create designs that tell them where to go, where to sit and remind them of the timeline of the day. These are all parts of the day you don't want to worry about explaining. You can sit back and enjoy the day knowing they are okay.
You can keep the signs forever as a beautiful memory. If this is something you want, I work with you to ensure the wording is right and can be a lasting piece of home decor.
WHO IS WEDDING SIGNAGE FOR?

Wedding signs are for the couples that want to bring their personality into their days decoration and love a beautiful detail.

Hand lettering is a art form that people LOVE and there is something so special about receiving a hand lettered place cards or favour that will make your day even more memorable.
WHAT CAN DO I WITH THE SIGNS AFTER?

There are a few options here.

I absolutely love seeing couples keep parts of their signage to become home decor pieces. We can easily do this by tweaking the wording to make sure it stays timeless.

Another option could be to use materials that lettering can be removed from, if you didn't want to waste them.

I am happy to discuss your ideas and help guide on what can be done based on your style of the wedding.
WHAT DOES IT COST?

Signs can of course range in price. This comes from the type of material you want to use and the amount of lettering involved (mostly a higher guest count).

You can see a starting price guide here for ideas.
ARE THERE SUSTAINABLE OPTIONS?

Yes!

Sustainable signage can be done in a few ways.

We can work with wood or recycled acrylic or alternatively use materials that can be reused after with the lettering removed (vases and mirrors can be a good example).

If you are unsure, just pop me a message and we can talk through your ideas.
NEXT STEPS
CONTACT ME

Get in touch
with me via my website if you're interested in working together.

I have a quick and easy form I will send you to complete, with more details of what you're looking for to help me give you the best quote.

LET'S VIRTUALLY MEET

Enjoy a free 30 minute consultation to dive deeper into your ideas.

This is an optional service but it can be really helpful to meet and make sure we are the best fit for eachother. After all you want to trust me with your best day.

RECEIVE YOUR QUOTE & DIGITAL MOCKUPS

I will use your form and our call to create a quote for you. Alongside this I create a digital mock-up of what your designs could look like. This of course can change but it gives you a good starting point to start visualising your day and hopefully helps your decision.

CONFIRM YOUR PLACE

When you enquire with me, I will hold your date for one week. When you receive your quote and would like to book in, all you need to do is reply and let me know!

From there I will send a contract and a 50% deposit invoice that secures your place.
Brand photos by @molliemanningcreative