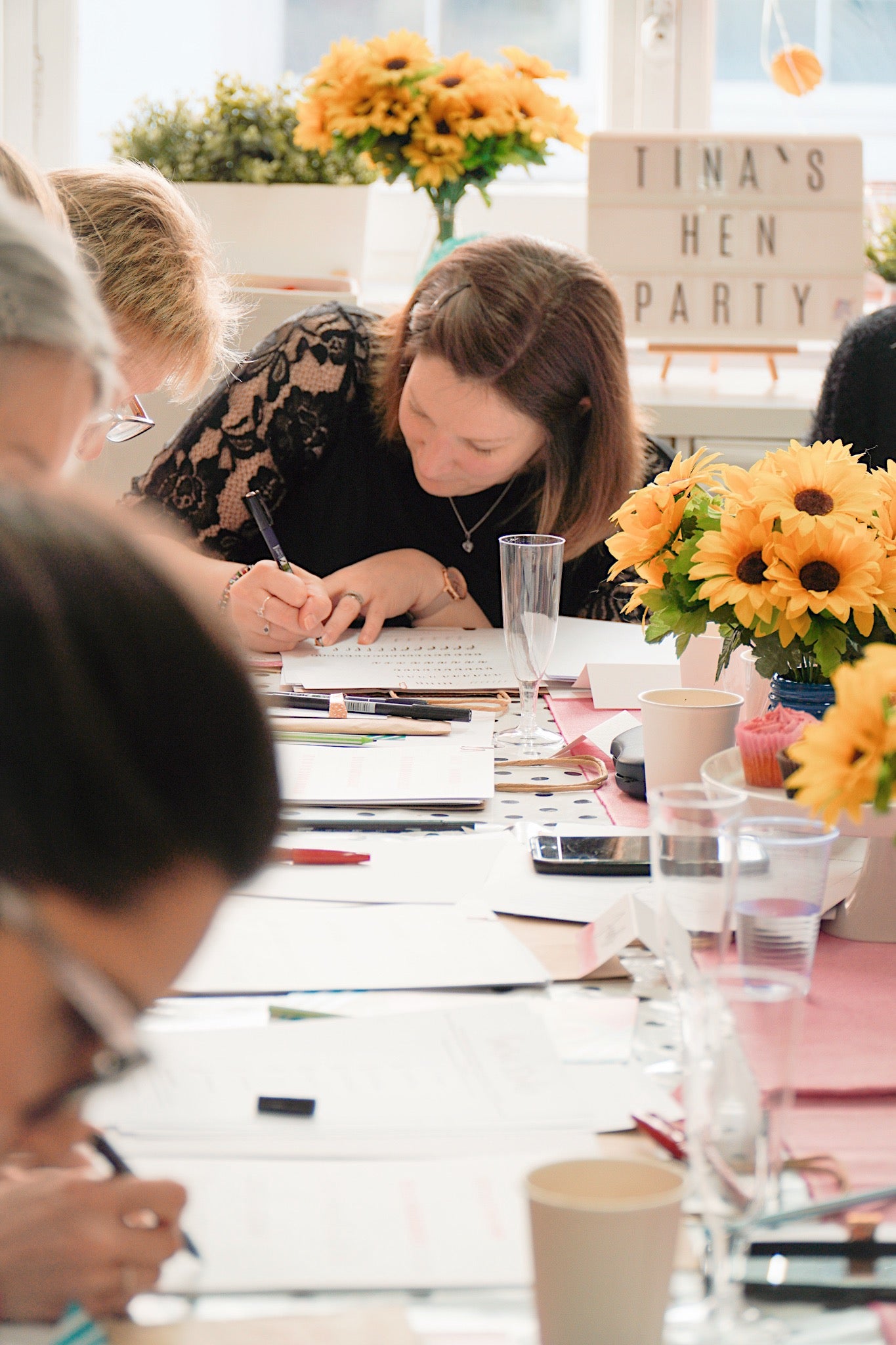 LEARN CALLIGRAPHY WITH ME
Modern Calligraphy is an amazing skill to learn and can be used to spice up so many occasions in your life (your gifts will never look so good!)

I absolutely love being able to be a small part of your journey and ensure you are set up with the right foundations. Because of this I have created a couple of options for you to learn.

Chose our Brush Calligraphy Kit for Beginners to learn at home and go at your own pace.
Or choose an In-person workshop, where you will learn all you need to know to get started on this journey, within just 2 hours.

Are you ready to create your own DIY projects? I got you.
Collapsible content
WHY SHOULD I LEARN CALLIGRAPHY?

Calligraphy is a timeless art form that can be used to create beautiful projects both personally and professionally. 

Learning this gives you a chance to take a digital detox.

Focusing on the strokes of calligraphy makes the brain stay present and creates a calming environment. 

It is a perfect activity to practice mindfulness and balance your metal health
You will be able to create lots of DIY projects yourself to surprise your loved ones
It is an activity you can do alone or with friends (girls night in never looked so cute)
It isn't an expensive hobby (unless you want to buy every colour pen possible!)

WHAT ARE THE DIFFERENT TYPES OF CALLIGRAPHY?

I teach two styles of calligraphy currently; Brush calligraphy & Faux calligraphy.

You are more than capable of any style but it just depends what you want to create.

Brush calligraphy uses specific brush pens, which can only be used on smooth surfaces. This style is the most popular you will see and you can create cards, place cards, prints, wrapping paper...think smooth paper and you can design on it.

Faux calligraphy uses pens that the nib does not move (think pencil or felt tip). With this style you can create so much more as the pens are more robust. Materials can include wood, mirror, acrylic, glass, paper....really you name it, you can write on it with the right pen.

To dive deeper into what style you want, you can see my blog here.
WHAT EXPERIENCE DO I NEED?

Absolutely nothing!

No seriously I mean it. My workbooks and workshops are currently all set up for beginners.

You will learn everything you need to know from the basic strokes, how to form the alphabet and connect these into words.

And before you think you can't do it because your hand writing is bad, trust me it really doesn't matter (my shopping lists do not look this good!).

I teach you how to break hand writing habits to produce beautiful calligraphy no matter what.
HOW MANY CAN YOU TEACH IN ONE CLASS?

For private workshops, I have a minimum of 4 people.

However I can teach a class in any size you need above 4 pax.

I like to average between 10-20 people so you can all comfortably learn from me and have 1-1 support, however larger classes are available.
PRIVATE CLASSES

Private classes are perfect for birthdays, baby showers, hen do's, a girls night in or a work team activity.

Grab a bottle of bubbly and learn this fabulous skill in the comfort of your space with your besties.

BOOK ME IN

WORKBOOK KITS

Learn Faux or Brush Calligraphy with our best selling
beginners kit.

Full of calligraphy practice sheets, pens and a free inspiration guide to kick start your journey.

EXPLORE THE KITS

CORPORATE CALLIGRAPHY

Are you looking for a wellness activity for your company? I would love to help you unwind with a beginners class

LET'S CHAT
"THE CLASS WAS AMAZING! VERY PROFESSIONALLY RUN BUT ALSO SUPER RELAXED AND FUN. I REALLY WASN'T EXPECTING TO LEARN AS MUCH IN ONE CLASS OR TO FEEL SO COMPLETELY CHILLED OUT THROUGHOUT, SO THE CLASS DEFINITELY EXCEEDED MY ALREADY HIGH EXPECTATIONS"